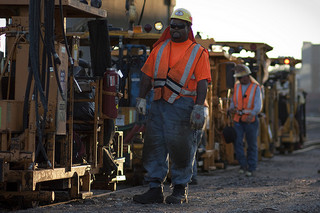 If you've been penalized for reporting an on-the-job injury or safety hazard you are covered by the whistleblower amendments to the Federal Railroad Safety Act.
You can sue your carrier and force it to make amends for your injury, loss of work, missed promotion, even your bills that went unpaid because of the company's action.
If that's the situation you're in, you probably have one question on your mind: If I sue my carrier, how much is my case worth? That's the question I'm going to tackle in this post.
Wondering what makes a worker a whistleblower? Read this post. You'll be surprised by how many of these situations you've been in or witnessed.
The law, or statute, is called a "make whole" remedy. That means the company can be ordered to do whatever it takes to fix what it did to you.
Those fixes can take the form of money, job reinstatement, even wiping clean any discipline from your company file, something the union often cannot accomplish under the Railway Labor Act. The judgments can even pay your bills.
For instance, I've had clients put back to work with full seniority and back pay. I've had the carrier pay the interest on credit cards. A carrier was even ordered to pay the value of a house lost in foreclosure after the employee was wrongly fired and fell behind. I've had cases where the company had to pay back all of the lost RRB credits.
There is also a catchall under the amendment, called compensatory damages. This is essentially the grief and aggravation you have to go through to enforce your rights. I once had a client awarded PTSD damages by a jury, because the employee was forced to watch himself almost being killed, over and over, at the hearing and at trial. The point is, whatever you are subjected to is supposed to be paid for.
Specifically, that law says that you are entitled to:
Reinstatement
Back pay with interest
Compensatory damages
Costs in connection with the pursuit of your claim
Attorney's fees, paid by the railroad
Punitive damages up to $250,000 (those are meant to punish the carrier)
Those last two categories are worth a little extra discussion.
If You Blow The Whistle, The Carrier Has To Pay Your Lawyer
In most lawsuits, you either pay an attorney out of your pocket along the way for each hour of work or you pay a percentage of the ultimate recovery as the fee. Under this statute, the company has to pay the fee of your lawyer.
In other words, what you are awarded by the Department of Labor or a jury is what you actually receive. The attorney's fee is separate and decided by the court or arrived at by settlement, but does not come out of your pocket in any event. That is particularly helpful in cases where the amount of money you are out of pocket is minimal.
I had a jury find that my client was wrongly disciplined, but the discipline was a letter of reprimand in his file. He never lost a day of work. Normally I would have to tell that client that he would be paying me in excess of $75,000 to get that letter removed from his file. And in that case the carrier would get away with the retaliation because no one would pay that much to get back so little.
But if you enforce your rights, you don't have to choose between the company's obligations and your bank account.
Not Only Does The Carrier Have To Fix Its Mess, But It Gets A Punishment Too
Punitive damages are an amount of money intended to punish your carrier and keep it, and any other company paying attention, from acting badly in the future. It gets awarded where the carrier shows a conscious disregard for your federal rights. Often times, I try to speak to the union representative before your company hearing takes place and ask them to confront the carrier witnesses with the FRSA statute. Can you think of a better way of proving to a jury down the road that the railroad doesn't care about your federal rights?
Juries are amazed at what you deal with on the job. Rail culture is at least 50 years behind the buttoned-down corporate world. Every whistleblower case to have gone to verdict has included punitive damages awards of more than double the statutory cap. That means the juries are appalled at what they see. You have become numb to the conduct, it is your day-to-day, but outsiders are shocked.
If you have filed a claim or are thinking about it you'll need some guidance, about how this will affect your medical care and on important filing deadlines. Download the free guide below to get the information you need to bring a whistleblower suit against your carrier.
Photo by Nick Allen.
This post was orginally publshed in April 2014 and has been updated.