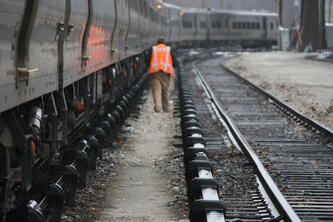 In the wake of the death a Metro-North worker, the Federal Government has finally confirmed the cause of Metro-North's drastic fall from grace - performance at any cost, even human life.
Just four days after James Romansoff, an 8 year member of the MNRR 3rd Rail department was killed, the Federal Railroad Administration found that the railroad prioritized on-time performance over everything else, including safety. Mr. Romansoff was part of a crew restoring power to tracks that had been closed for weekend maintenance when he was hit by a train traveling on the Harlem Line from Grand Central Terminal to Poughkeepsie. He was taken to Mount Sinai Hospital, where he was pronounced dead. The report did not even include the details of this most recent death.
In this post I'll offer my perspective as someone who has worked closely with Metro-North workers for more than 15 years and has seen the railroad put efficiency above safety, time and again.