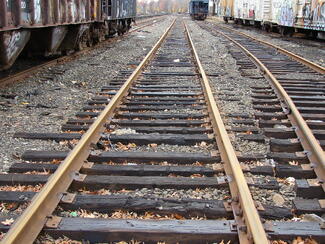 Have you been on the railroad over five years?
Then you are most likely numb. Not from winter weather in early November, but to the railroad safety hazards around you daily. That is both dangerous and avoidable.
Becoming desensitized to the dangers of train work makes you take unnecessary risks. Instead of voicing a concern, and possibly incurring the wrath of a general foreman, you shrug it off as something you've done hundreds of times before without incident. But if nine out of 10 people walk across the thin ice without falling through, and only the last does, does that mean the ice was safe? Of course not. It means the first nine got lucky. And so it is with you.
In this post we'll use photos to highlight common safety hazards workers face everyday.
These are photos of actual conditions that have injured my clients. I show them here because they're probably reminders of things you get exposed to every day. The problem is, they are all things that should have been either repaired or cordoned off by the company before the workers went out. The carrier is always quick to say that the employee failed to avoid the dangerous condition. But remember, there is no defense of "assumption of the risk" in the FELA. In other words, the carrier can't skate by saying "railroad work is just dangerous", though it is attempted in every trial. Sometimes it is violation of a federal rail safety regulation, other times violation of the company's own safety rules or often violation of common sense.
You might not know it, but a right to a safe job site is one of your 10 rights as a railroad worker.
Take a look at these photos and see if you can find the safety violation. Every one of these should make you want to raise an issue. If not, you have been deprogrammed to safety.
In the cable trough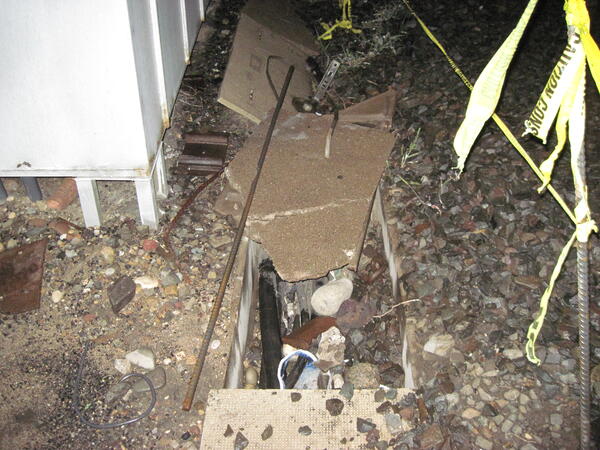 A cable trough right outside a signal hut in the middle of the night. Instead of proper covers, it was left half-covered by other debris. The hole was not cordoned off before my client stepped into the hole, requiring knee surgery.
Under the bridge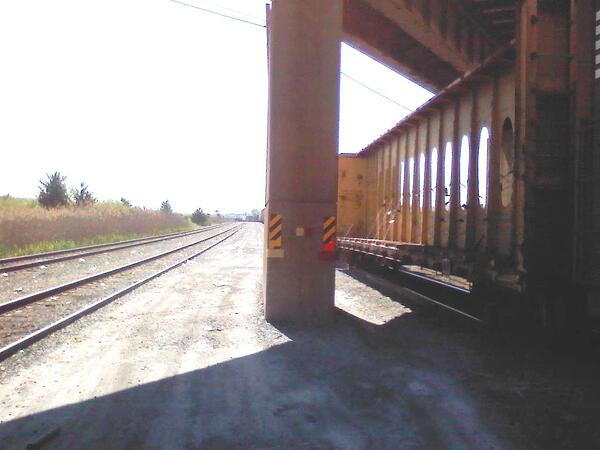 A dark and stormy night, under the bridge. A conductor new to the job, who'd never been to this part of the yard. There were no lights and the reflective surfaces did not exist at the time that my client struck the concrete pillar with the all-terrain vehicle that had no mirrors.
On a moving car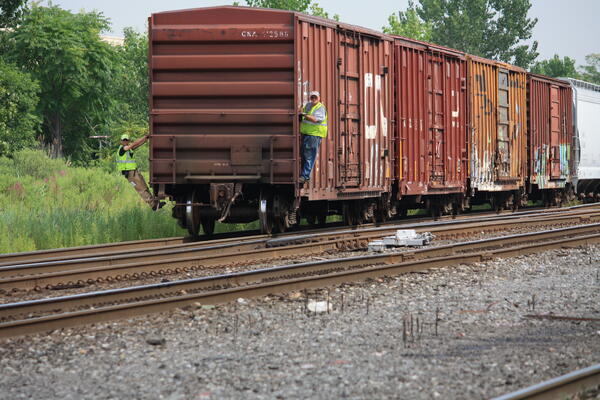 GOOME. Getting On and Off Moving Equipment. It is alive and well, despite specific knowledge that it exponentially increases the chance of injury.
In between the ties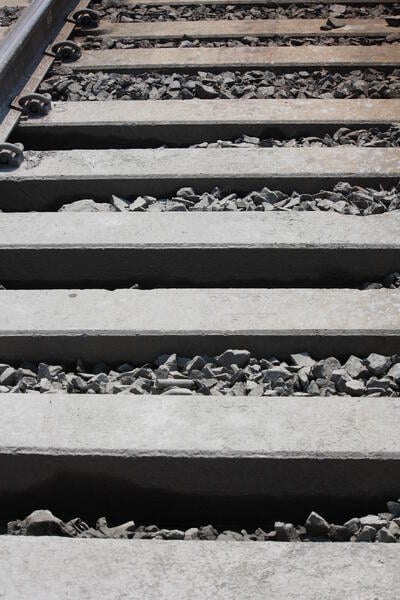 CSX own track standards require ballast to the top edge of the tie. Holes and gaps like this also violate AREMA standards. These are unnecessary tripping and walking hazards.
On the walkway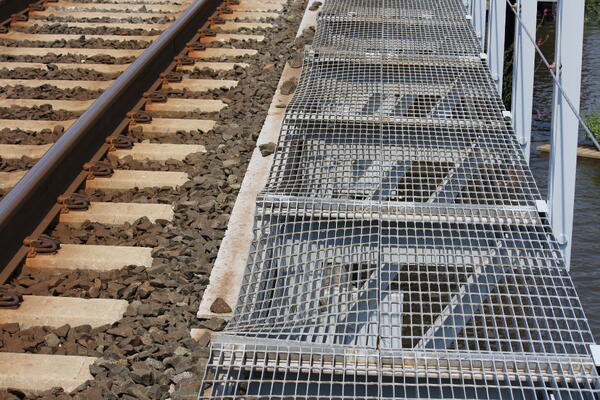 Let's provide a walkway, then make it dangerous to walk on. At night, in wet or icy conditions? No brainer. How long will it take to repair?
Around the signal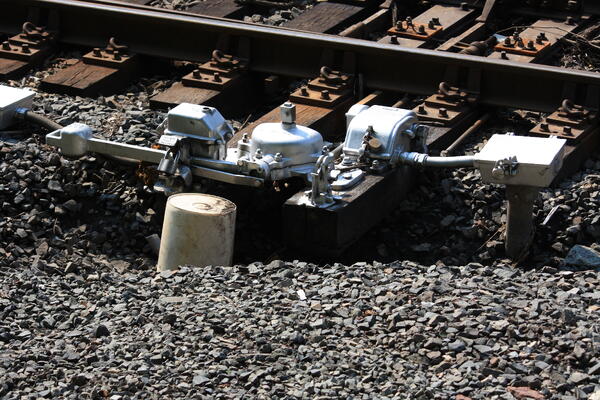 That is a two foot hole right where a switch has to be thrown. The entire area is loose stone because they never dealt with the drainage issues.
On the embankment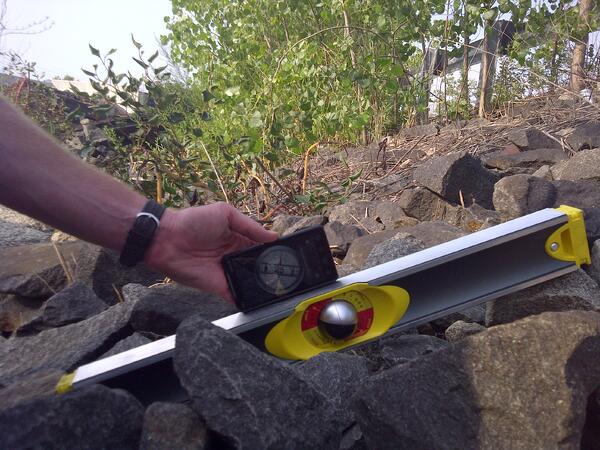 Look at the size of the ballast. And since this is a regularly accessed location, why have no stairs been installed over the last 20 years?
Around a live rail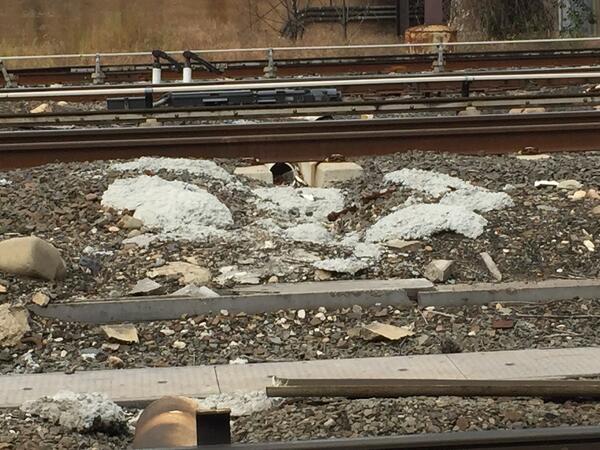 The Track Engineer testified at trial "I don't see anything objectionable in this picture." The MAS here is 60+. It is an interlocking with 8+ tracks. Crossing live rail with these hazards is asking for injury.
In the tunnel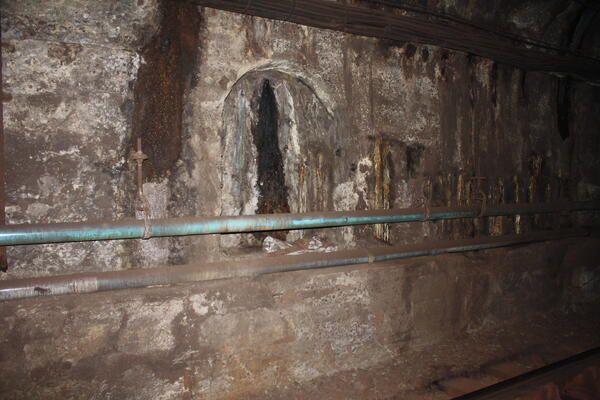 These cut outs were installed in the tunnel to allow for escape, as was the 15 inch bench wall. So who was the bright person who put pipes in the way of employees needing to make use of the escape area?
The first step to protecting your life (and limbs) on the job is knowing your rights to a safe work environment. The second is understanding your right to sue the railroad if its negligent actions lead to your injury. If conditions like those featured in these photos caused your injury, click here to see an example of how a FELA injury case came to verdict in favor of a worker forced to work in unsafe conditions.
The third is knowing your right to report safety hazards without fear of retaliation. Workers who are punsihed for reporting safety hazards are protected by a federal whistleblower act. You can find out if what you saw or experience on the railroad give you a whistleblower claim in our guide, Am I A Whistleblower?