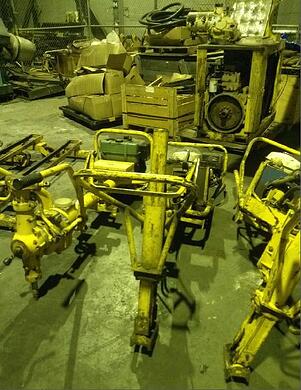 Three weeks after his 30th birthday, my client started working for the railroad as a temporary employee in the track department. He had previously worked for the county as a tree climber and for Poland Spring delivering water.
Six months later, on his first day as a permanent employee, my client, whom I'll call "John", was pulling pin spikes in the tunnels using a claw bar and a half washer, a technique created by the railroad. It was a tough spike, and he and his partner did what they had been trained to do, muscle it out. But the spike head was corroded, and the heat-treated washer popped through in an instant.
Less than half a second later, John was on his knees clutching his right eye. In the ambulance and at the hospital, John was told they did not expect to save the vision in that eye.
After the accident, John learned the railroad had a hydraulic spike puller which could have been used in lieu of the manual technique.
At the hospital he learned he had a ruptured globe. When the washer hit John's eye, it sliced it open from 12 o'clock to 3 o'clock, which led to five surgeries, 29 weeks lost work and a net loss wage loss of $27,000. What's worse, John has lost some vision in his right eye and along with it, the ability to practice competitive mixed martial arts, which he did as a passionate hobby and a money-earning side job. Added to that, he faces a higher chance for glaucoma and blindness, and more surgeries.
As a competitive mixed martial arts fighter, John has fought in 35 paid bouts, the last, five days before the accident. His surgeon has cleared him to spar, but not fight full contact. As a result of the accident he has a 17-49% chance of contracting glaucoma in his right eye, which requires semiannual monitoring. For the next 44+ years my client has to get screened 2-3 times per year for glaucoma because if he misses an appointment, the nerve damage caused by the disease will creep in and is irreversible.
Using the Federal Employer's Liability Act, known as FELA, I sued the railroad on John's behalf arguing that the railroad had a better, safer tool for the job and access to safer eyewear and chose not to use them, effectively choosing efficiency over worker safety.
The railroad told the jury that:
It had no way of knowing this could happen.
My client must have caused his own accident.
He'd failed to keep the glasses on his face.
After the injury he didn't follow doctors' orders, making his own injuries worse.
I showed the jury that:
The company had owned a machine for over 15 years for this exact job, a spike puller, but that they didn't use it because they couldn't pull as many spikes in a given time period. In other words, efficiency, and avoiding overtime costs, was more important than safety.
These washers had popped through for years, flying around the tunnels and hitting people in the arms, although no one had been hit in the eye.
My client was wearing the glasses assigned to him, that the glasses frequently slid around in the hot dirty tunnels when doing violent work and that there were goggles in use in other places that had elastic bands and provided full eye coverage.
My client did exactly what the doctor asked of him. I also showed the effect of the injury on his life.
The jury agreed with my argument. After a quick deliberation in February 2014, came back with a general verdict of $3,750,000 with no blame placed on John. Prior to trial, the railroad thought so little of his claim that it never offered a single dollar in settlement, saying at best it was worth less than $100,000.
To read more about this case check out the case study below.
Photo by Flynn & Wietzke