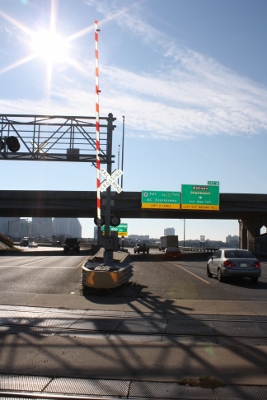 When you get hurt at work on the railroad, what the company does behind your back could be worse than your injury.
Take for example, a shoulder injury or knee injury, both common injuries for railroad workers:
You busted your shoulder or twisted your knee on the job and your first thought was probably, "How am I going to work?"
The railroad's first thought was "How can we minimize this guy's injury?"
You reported your injury because you were too hurt to work, not because you wanted the railroad to pay up. Reporting it was the right thing to do. The railroad will discipline you if you don't report an injury. But from the railroad's perspective, "paying up" is always where this road leads and it's prepared for court before you even decide to seek a shoulder surgery settlement or sue for your knee replacement.
In this post we'll look at what happens inside the railroad when you report an on-the-job injury.
Here are four important behind-the-scenes moves you should be on the look out for if you filed an injury claim:
1. The railroad claims department kicked into action the instant your injury was reported.
Right away the railroad began collecting information about how the accident occurred and what injuries you suffered. Without consulting you, the railroad will decide whether it wants or needs photographs or statements from witnesses. Equipment can be repaired or the scene of an accident can be changed. The trouble tickets or maintenance records are "updated" or worse yet, lost. The evidence gets cold, and with every day that passes, the witnesses' memories grow dimmer. If the railroad chooses not to collect photographs, you may be left with no way to adequately show the conditions which caused the injury.
2. A claim agent might ask for a chance to work out your claim with you directly.
But what the agent is really asking for is not a chance to give you a fair settlement – based on the facts and your injuries – but a chance to get a statement from you to then begin his work. And his work is designed to lower the amount of compensation which you receive. He will tell you that he can only properly evaluate the claim and make you an offer if you sit with him and give the details of what happened. He will then tell you he needs to record it to make sure he doesn't miss anything.
Did you decide to handle the claim on your own? It's not a bad idea sometimes when your injury is small and routine. But just because you decided not to work with a lawyer, don't think the railroad is taking that route. The railroad's experienced in this area. It has a stable of regulars on speed dial, while you have to launch a search – scouring the web and asking friends – for an attorney who knows FELA.
Keep your eye out, those in house claim departments and investigators will try to influence you. They know they've got you where they want you. You're injured, you've got no money and they have a team of lawyers to come after you.
3. The railroad may talk to your company medical department in an effort to influence the outcome of your claim.
The railroad claim agent will be working closely with as many lawyers and investigators as the railroad wants to put on your case. While he asks you to give him a chance to settle you're unaided by the legal advice to which you are entitled. You should ask yourself, shouldn't I balance out the odds and talk to a lawyer who has only my concerns in mind? Remember, the advice is free.
4. Proceed with caution when it comes to treatment by a railroad doctor.
When a job-related injury occurs, the railroad has a right to have you examined by a doctor of its' choice to determine the nature of your injuries and your ability to return to work. This does not give the railroad the right to tell you which doctor to go to for treatment. If, however, you choose to seek treatment from the railroad's doctor, you should realize that the doctor is in a position of conflicting interests.
It's in the railroad's interest to find as few job-related injuries as possible, minimize your treatment and lower your claim for damages. This conflict of interest may affect the doctor's decision regarding treatment, tests, referral to specialists, discharge and return to work.
In addition, when you have only been treated by the company doctor, your whole medical history is in the hands of the company. This means that even before the claim is presented in court, all the medical details about your injury are in the hands of the company lawyers. Moreover, the company doctor generally plays down your existing injuries as well as the period of future disability. This will result, of course, in a smaller recovery.
For all these reasons it's important that you get treatment from your own physician instead of the company doctor. Just be sure you show him this first.
Before you talk to anyone, arm yourself.
If you recently filed an injury claim, or are about to, make sure you arm yourself with the knowledge that will protect you and ensure the best possible outcome for your claim.
Here are a few articles you'll need: