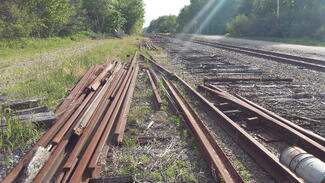 Portland, Maine -- A New England railroad worker was awarded $400,000 in June when a federal jury ruled that the railroad had fired him illegally after he voiced safety concerns at a jobsite.
In the third verdict ever under the statute, the jury found a New England railroad violated federal law when it charged and fired an employee for expressing concerns about experience and training of a newly-minted employee.
On Oct. 7, 2011, a Signal Foreman working for Springfield Terminal Railway Company left his worksite to go to another worksite to make sure that a three-month employee from his crew was okay running a mini excavator. His concern was that the new employee was going to get in over his head because he was new on the machine and it was a hydraulic oil spill cleanup site. Upon arrival at the cleanup site, he asked the Maine DEP official if there would be a report prepared about the substance being cleaned. Before he could finish talking to the public official, he was verbally berated by the railroad B&B supervisor who was overseeing the cleanup and ordered to leave the site.
The company charged him with insubordination for talking to the public DEP official at the site and for refusing to leave the site when told to do so. The company found him guilty and terminated him. The company hearing even included accusations that the employee was vicious and immoral.
Approximately one year later he found another job making 75 percent of his former income. Another eight months after that he took a full-time job with the union, still making less than he had at the railroad.
On June 26, 2014 a seven person jury in Portland unanimously found that the railroad had violated the whistleblower provisions of the Federal Railroad Safety Act and awarded him $150,000 in compensatory damages and $250,000 in punitive damages. Learn more about whistleblower recoveries here. The railroad also must pay attorney Marc Wietzke's fees over and above the amount awarded to the Signal Foreman. Click here to see if you have a whistleblower case.
Wietzke, of Flynn & Wietzke, PC was also the attorney responsible for the largest verdict ever under the whistleblower provisions of the FRSA, Brig et al v. Port Authority Trans Hudson (PATH) on behalf of an Assistant Signalman and a Signal Maintainer tried last year in federal court in Lower Manhattan.

The whistleblower amendments to the FRSA that became effective in October 2007 make it illegal for a railroad to harass, retaliate, demote or in any way discriminate against an employee who may assist in an investigation of the violation of a Federal law or regulation or reports a safety hazard.
Photo by Marc Wietzke